After a Fire...
4/25/2019 (Permalink)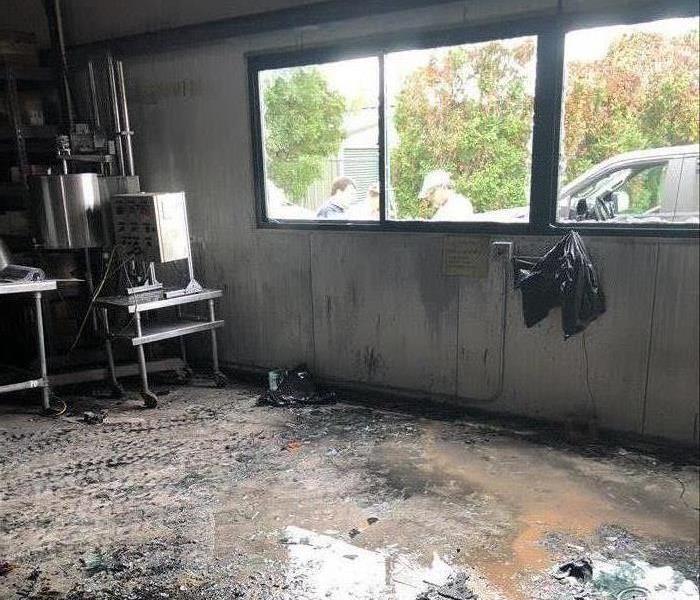 After a house fire, you are anxious to enter your home, but do not touch the carpets, draperies, upholstered furniture or clothing. They are likely covered with soot, which is oily, and it stains easily. Soot includes fine black particles, consisting mainly of carbon, as well as acids, chemicals, metals, soils and dust. Its removal should be handled by SERVPRO, professional fire remediation experts.

A common residential fire results in the burning of a variety of materials, from wood, paper, plastics, foams, fabrics, wool, wood products, synthetics and asbestos containing materials. Fire damage to Vermont residential and/or commercial buildings will result in soot contamination. Exposure to soot may occur via the eyes, skin, inhalation and ingestion.

Airborne soot particulates are invisible, thus after a fire you may unknowingly be affected. Soot particles can enter the bloodstream and cause a variety of health issues. Firefighters today are very well-trained in safety, plus they were protective gear, yet they experience a higher incidence of respiratory problems than the public.

After a fire is extinguished, there still exists some safety risks. Soot is just one of the secondary fire residue risks, which cause damages. Not all soot residues are the same. There are different types of soot which are easier to clean than other types. SERVPRO professionals will clean any of four different types: dry smoke, wet smoke, protein smoke, and fuel oil smoke residues.

Industry issued safety equipment are essential in reducing possible exposure to dangerous soot conditions, including water related health problems from firefighting efforts. The fire restoration professionals at SERVPRO of Burlington/ Middlebury use IICRC professional tools and industry approved remediation methods. Our knowledge and expertise are at the heart of a thorough and safe fire restoration. Call us at (802)497-1101 and let us help restore your property back to normal.