Fire Restoration in Vermont
1/13/2022 (Permalink)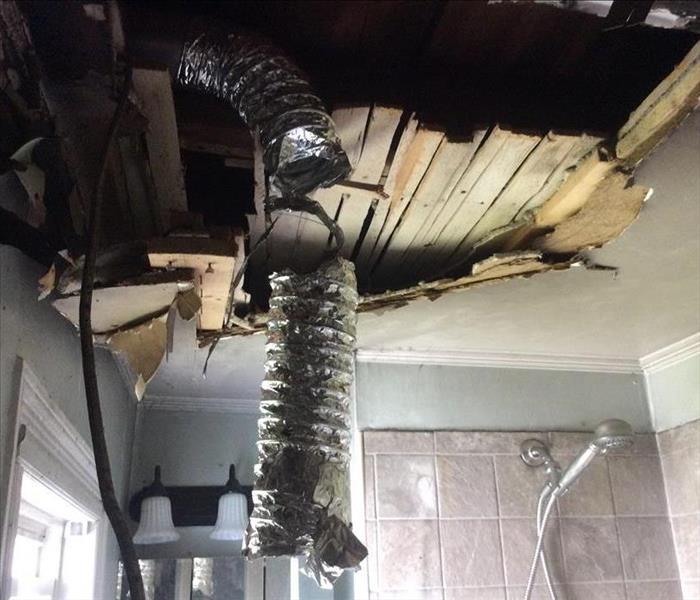 This homeowner called us right in after a fire broke out above her Bathroom when the exhaust fan malfunctioned.
SERVPRO Provides Expert Advice and Mitigation of Fire & Smoke Damaged Properties
Fire damage restoration can be a stressful time for any homeowner in Vermont. You have just experienced a harrowing incident, and it is understandable if you are feeling a bit overwhelmed. However, if you know what to expect during this time, it can be a bit easier to stay on top of things.
Here at SERVPRO, our team of experts strives hard to help you get through fire damage restoration in Vermont as smoothly as we possibly can. Fire recovery is a multi-step process that takes time and patience. Here are a few things that you should expect from the process.
Assessment of the Damage
Assessing the damage is one of the first steps in restoration. The SERVPRO team of experts assesses the damage by visual inspection and determines the areas that need urgent attention. The team also determines the items that are restorable and the items that are not. Once they have gathered all the information, they provide you with a summary of the findings and also explain the best plan of action. You, and your insurance adjuster, if applicable, have the final say on salvaging or tossing building materials and belongings.
Extent of Cleaning
The SERVPRO team reviews the full extent of smoke, soot, and other fire damage. Our team has the skill set and experience to guide you through every step of the cleaning process. However, you have the final say regarding the extent of the cleaning. We help you to reach an informed decision by providing all the necessary information.
Deodorizing and Ductwork
Deodorizing is a huge part of fire damage restoration. We use ultra low volume and heat foggers that can tackle even the toughest of odors. In case you have a forced air heating system, our experts also examine the ducts for smoke and soot damage and provide you with options to deal with it.
Once you agree to the terms, our skilled professionals get to work and start the process of restoration. The time required for a complete restoration depends on the extent of damage and scope of cleaning.

Call the SERVPRO of Burlington/ Middlebury today to schedule an inspection @ 802-497-1101. Our experts are committed to helping you get your house to pre-fire conditions as soon as possible.