What to expect from SERVPRO
1/26/2022 (Permalink)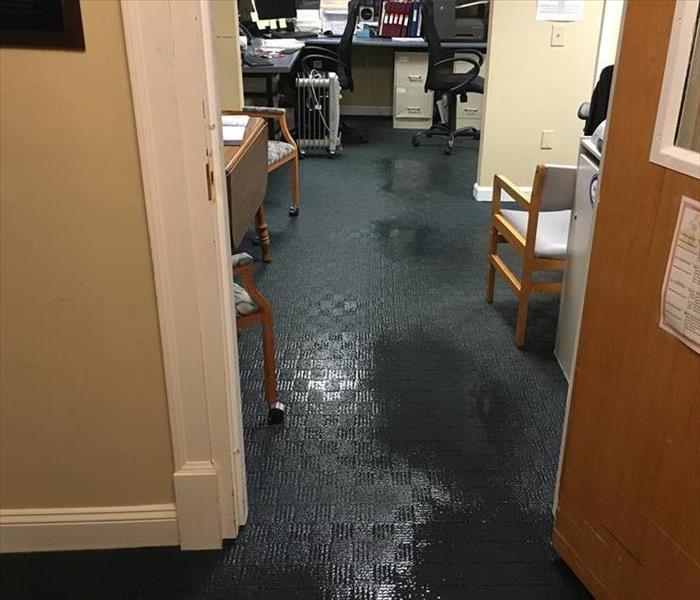 Our teams were onsite quickly after this sprinkler line gave way in one of our local retirement homes!
First and foremost, expect our 24-hour availability! Whether you are calling day or night, weekday or weekends, and even during the holidays, you can always expect to speak with a real person about the emergency you are experiencing. The SERVPRO of Burlington/ Middlebury is the top choice for many insurance agencies in Chittenden and Addison and Washington Counties!
Here is what you can expect during the first several hours after contacting the SERVPRO of Burlington/ Middlebury:
Quick Response - When a building has been damaged, the response time is an important factor in how time-consuming and how costly restoration will be. At SERVPRO we are always open, so you can expect to hear back within an hour after you have contacted us about the emergency. Once you have provided us with the necessary information, we will begin preparing to address the needs of the mitigation and the coordination of teams to the job site.
Arrival Time - Our technicians can be on-site to begin the restoration process within four hours. This fast response can make the difference if your home or commercial business has suffered a great deal of damage. Beginning the process more quickly will result in less damage overall which can end up not only preventing the need for contractors to come in and rebuild the structure, but saving costs for you, our customers as well.
Inspection/Verbal Briefing - Once our damage restoration specialists has arrived, they can inspect the home or business to determine the extent of the damage and decide on the best course of action to mitigate the issues moving forward. Our team has the ability to let you know in the emergency is claim worthy or not as well given that not all water damage is costly enough to hit a deductible. We will provide a verbal briefing to you and to an insurance carrier (if applicable) so that everyone involved is aware of what will happen next. Our team's quick 24-hour response will allow us to begin mitigation as soon as possible to prevent any further damage.
If you've experienced water damage in your home or business, call the SERVPRO of Burlington/ Middlebury as soon as possible and we'll get a team out right away! Reach us 24/7/365 @ 802-497-1101.